HORIZONTAL PLASTIC TANKS
Horizontal plastic tanks for water, oil and chemicals, composition: high density polyethylene (PEHD) and polypropylene (PP) are made by spiral wind technology and the additional technology in manufacturing is extrusive sealing of plastic. The use of PEHD tanks is recommended in open spaces because this material is stabilized on UV radiation. They don't have odors, nor do they absorb the smell of materials that are stored in them, so they can be used for:
Storage of drinkable water
Storage of oil
Storage of fuel oil
Storage of diesel fuel
Storage of chemicals
Facilities for treatment of drinkable water
Facilities for treatment of waste water.
It is important to mention that, no matter if they are used for storage of drinkable water or disperse (powder, grain) materials, plastic tanks of PEHD are persistent at temperatures from -30oC to +60oC, and the PP tanks from -10oC to +100oC.
As a consequence of simple construction of this plastic tanks, in combination with material stability – HDPE i.e. PP, is a fact that for them no special maintenance is needed during their life time, and smooth inner walls enable easy, fast and efficient cleaning.
Horizontal tanks, plastic cistern, can be above-ground or buried. If they are set above-ground, they must be provided with plastic, or some other legs.
Horizontal buried tanks are made so they can endure the burden of land layer, and they are buried according to the manufacturer's manual.
We are able to install on any of our plastic tanks all kinds of standard and special (non-standard) connectors for connecting to all pipeline systems.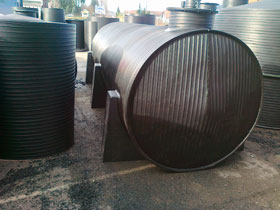 Horizontal above-ground tanks with supports – legs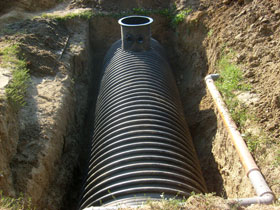 Horizontal buried tanks and cesspit
Plastic water tanks can be used instead of built concrete tanks for water supply of individual households and cottages as well as whole settlements.
Horizontal plastic tanks for oil and plastic tanks for fuel oil must be buried.
DAL d.o.o. horizontal plastic tanks must be buried as completely buried (fully buried) tanks, or as partially buried (half-buried) tanks.
Half-buried horizontal tank – burring with top layer in form of a mound
Fully buried horizontal tanks – total burial in the trench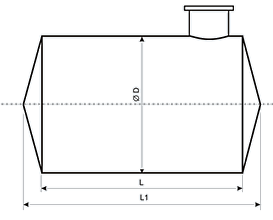 Dimensions of horizontal tanks and cesspit
Dimensions of tank can be adjusted to the customer needs!
| Volume (l) | 500 | 1000 | 1500 | 2000 | 3000 | 4000 | 5000 |
| --- | --- | --- | --- | --- | --- | --- | --- |
| Diameter D | 800 | 1000 | 1000 | 1000 | 1200 | 1300 | 1300 |
| Length L | 1000 | 1300 | 1950 | 2600 | 2700 | 3000 | 3800 |
| Length L1 | 1200 | 1550 | 2200 | 2850 | 3050 | 3350 | 4050 |
Volume (l)
6000
7000
8000
9000
10000
Diameter D
1300
1600
1300
1600
1300
1600
1300
1600
1300
1600
2000
Length L
4560
3000
5320
3500
6080
4000
6840
4500
7600
5000
3200
Length L1
4910
3450
5670
3950
6430
4450
7190
4950
7950
5450
3750
Volume (l)
11000
12000
13000
15000
17500
Diameter D
1300
1600
1300
1600
2000
1600
2000
1600
2000
1600
2000
Length L
8300
5500
9120
6000
3850
6500
4150
7500
4800
8750
5600
Length L1
8650
5950
9470
6450
4400
6950
4700
7950
5350
9200
6150
Volume (l)
20000
25000
30000
35000
40000
45000
Diameter D
1600
2000
1600
2000
2000
2000
2000
2400
2000
2400
Length L
10000
6400
12500
7980
9600
11200
12800
8880
14350
10000
Length L1
10450
6950
12950
8530
10150
11750
13350
9520
14900
10640
Volume (l)
50000
60000
70000
80000
90000
100000
Diameter D
2400
3000
2400
3000
3000
3000
3000
3000
Length L
11100
7100
13300
8500
9920
11340
12750
14200
Length L1
11740
7920
13940
9320
10740
12160
13570
15020