OIL SEPARATORS
Separators of mineral oils – oil separators i.e. separators of oil and petroleum products, are part of production program of DAL d.o.o. and they serve for separation and collecting of oil and grease that are contained in waste water from auto mechanical shops, gas stations, car wash, and drain water from parking and roads and other places where the pollution of waste water with oil and grease is present.
Oil separators with separating oil and grease are preventing gluing of them on the walls of sewage pipes and congestion, and they also prevent pollution of environment with waste oils.
DAL d.o.o. produces two types of oil separators:
Coalescence mineral oil separators by EN 858, which are, according to European standard – European norm EN858, classified as class I separators which implies that the content of oil in exit water is less then 5mg by one liter (5 ppm) which is the condition of abovementioned norm.
Gravitational mineral oil separators by EN 858, which are, according to European standard – European norm EN858, classified as class II separators which implies that the content of oil in exit water is less then 100mg by one liter (100ppm) which is the condition of abovementioned norm for gravitational separators. These separators do not contain coalescence filter and they serve as a rough cleaning of oiled water.
Coalescent mineral oil separators
Coalescence separators (I class) contain so called coalescence filter which roll is to gather the divided smallest and finest drops of oil (it is made of material on which the particles of oil are well adhere) into bigger drops – their unification-coalescence so like that they, in accordance with Stocks law, easily float to the surface.
Separators with coalescence filter DAL d.o.o. contain, as an integral part of the equipment so called valve-float-shutter, which is constructed and built to float in water and sink in oil. When sufficient amount of oil is separated, this float sinks through separated layer of oil and closes further exit from chamber for separation of oil inside of the separator. On that way is prevented that separated oil doesn't start to come out through exit tube of separator. This is usually a signal that the chamber that catches separated oil should be emptied, after that the separator works normally again. To reduce the possibility of closing the flow of separator, because of the excessive amount of mineral oil in the tank, alarm unit can be installed that oversees level of mineral oil so that the separator can be emptied on time.
Therefore, we can say that oil separators DAL d.o.o. are coalescence separators of mineral oil with safety float – shutter.
DAL d.o.o. separators of mineral oil are build in cooperation with firm "KB Armature" – Belgrade, in which DAL d.o.o. builds a tank with a system of internal divide, and "KB Armature" build so called coalescence filter, safety float-valve and inner armature. "KB Armature" is carriers of attest issued by the competent state intuition – Institute of Public Health Belgrade, – the attest confirms that the content of petroleum products on the exit of separator less then 5mg per liter (ppm) which is the condition of standard EN-858.
Advantages of the product:
Simple laying/burial,
Small weight, durable construction,
Small expense of installation,
Low costs of cleaning thanks to optimally constructed volume of chamber,
Low costs of maintenance and easy cleaning of the inside,
Coalescence pad is easy to remove, clean and change,
Indication of fulfillment with mineral oils, possibility of delivery with signal device,
Discharge of separator is done when needed and according to the signal of indicator,
Absolute protection from oil spills on exit of separator (safety float).
Shaft for sampling is constructed so it enables fast, easy and exact sampling of exit water that flows from separator. Shaft for sampling enables the owner or inspection service to take samples of water that flows out so they can control the work of separator.
Concentration of cleaning products and detergents in waste water that enters in the separator should be kept on minimum. Cleaning products/detergents that are used for washing, and therefore are present in waste water, and enter in separator they must be neutral and without hydrogen-chloride. In cleaning products chlorinated hydro-carbons are not allowed. In cases where more than one cleaning product is used, they must be compatible. In case of doubt, for detailed information's contact manufacturer of cleaning products/detergents.
If washing device is used improperly or when cleaning products/detergents are directly injected into the device for washing and then scattered on the surface that is contaminated with mineral oils, it can come to EMULSIFICATION. Untreated emulsifiers present in waste water that enters the separator can't be separated with mineral oil separator with coalescence filter. In cases when emulsifiers are present in waste water, device for emulsification can be installed that will process waste water before it enters into the separator.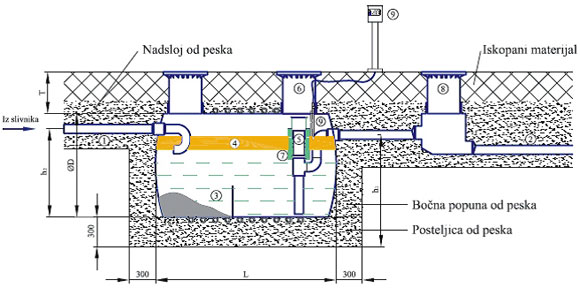 Waste water inlet
Purified water outlet
Sludge separator
Tank of separated mineral oil
Automatic shutter
Upper section of the lid
Coalescence filter (rough and fine)
Shaft for sampling
Alarm device
Label of separator
Volume of separator
dm3
Flow
l/s
Volume of oil
dm3
SND – 10
1000
2
187
SND – 20
2000
3 – 6
226
SND – 30
3000
6 – 12
265
SND – 50
5000
12 – 15
320
SND – 80
8000
15 – 18
365
SND – 100
10000
20
450
Table: Mineral oil and petroleum products separators
Coalescence separators of mineral oil with bypass
As a special sub-type of separators, DAL d.o.o. produces separators of mineral oils and petroleum products with so called bypass (coalescence separators with bypass).
Separators with bypass are used for greater opened catchment areas (traffic, parking lots, traffic city square…) where there is no continuous inlet of contaminated-oiled water but occasional sudden precipitations (rain and downpour).
In situations like that, first income of contaminated water that washed the surface (leftovers of petroleum products are mostly on the surface) and that is most contaminated, enters directly into the separator where purification is carried out, and the rest of the water from precipitation – later water flow that is significantly cleaner, passes through bypass.