PIPES FOR PLASTIC GREENHOUSES
Plastic greenhouses are suitable for cultivation of vegetables, flower and seedling through the whole year. It is possible to reach two or three harvest per year, as well as adjustment of harvesting time.
Pipes for plastic greenhouses are made of hart PVC, good mechanical features, reinforced with six ribs and persistent on UV radiation.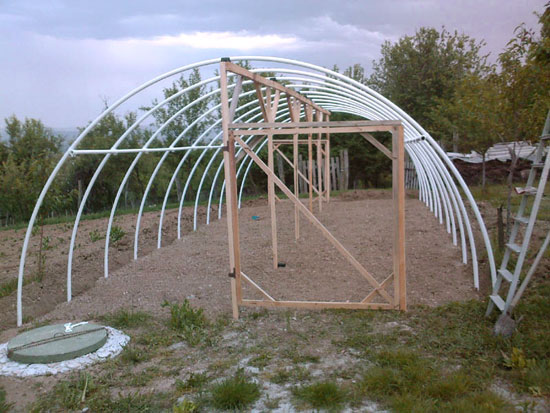 Pipes are 8m long, can be set with or without PVC stakes. In both cases the pipe is put 20cm underground, so that from 8m long foil we have left 20cm on each side to put ground on it for better securing.
Installation instruction for plastic greenhouses
Installation without stakes
First you measure the place for setting the constructions, then 8m long pipes (1) are put 20cm underground. Crossing pipes are joined with one top pipe (2) on which they are secured with plastic pins. Every third pipe is supported with wooden stake. 8m long plastic foil is put over construction, and 20cm of the foil is left on each side so that you can put ground on it to secure it.
Installation with stakes
Stake (3) is put nearly 40cm underground and pipe (1) is put into steak by the border. The rest is the same as with installation without stake. Advantage of this way is better use of the width of plastic greenhouse because the stakes are vertical and you can plant by their side, and wooden ones are not needed. Front sides of plastic greenhouse are also sealed with plastic foil.