PLASTIC PONTOON
Pontoons of plastic, as floating elements are most often used as pontoons for rafts, marines, catamarans, floating objects and the similar. Plastic pontoons are very light, persistent and long-lasting.
DAL d.o.o. plastic pontoons are build of high density polyethylene (HDPE) and they are actually spirally wound, externally plated pipes that have welded conical densets at the end. We also practice that every of our pontoons, depending on length and customer desire, are divided in inside to several independent chambers, and we achieve that with welding the dividers inside the pontoon. This is in case that water goes though the pontoon for any reason, it just enters into one chamber. The other solution that we use for prevention of water entering in case of damage, is to fill the pontoon with styrofoam rollers with diameter equal to inside diameter of pontoon, which is more reliable but also more expensive solution.
Our pontoons are that way constructed that at maximal load on raft, they are only half-immersed into water. Therefore it is necessary to know the mass of raft when it's at maximal load, so masses of steel constructions, wooden constructions, houses, the rest of the terrain and maximal number of people that can be found on the raft in one moment must be calculated.
Load capacity of our pontoons is following:
Pontoon with inner diameter of 60cm – 140kg per meter, which means e.g. 6m long pontoon, has load capacity of 6*140=840kg.
Pontoon with inner diameter of 80cm – 230 kg per meter, which means that 6m long pontoon, has loading capacity of 6*230=1380kg.
DAL d.o.o. plastic pontoon pipes can be carried out in a variance with slightly conical dunsets (use for rafts that are still), or with sharply conical dunsets – pointy dunsets (use for rafts that are occasionally moving, and for floating objects – catamarans and similar).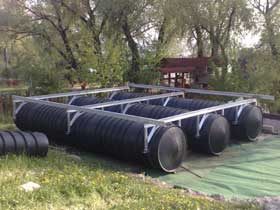 Examples of upgrades of metal constructions on pontoons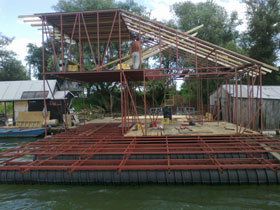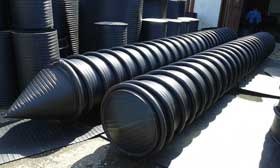 Plastični pontoni sa blago konusnim i sa "špicastim" dancetima.