PVC FENCES – PVC SLAT FENCE
Plastic PVC slat fence are build of material that is resistant to UV radiation, which guarantees them long life.
Plastic fence doesn't require special maintenance (dying) during its life time.
DAL d.o.o. plastic slat fence – plastic port is good for use as a plastic fence for yards and as a plastic fence for terraces.
DAL d.o.o. company produces two types of PVC slat fence:
Narrow slat fence: 48m wide 25mm thick (for 1m of fence you need 12 to13 pieces of slat fence)
Wide slat fence: 75mm wide and 22mm thick (for 1m of fence you need 8 to 9 pieces of salt fence)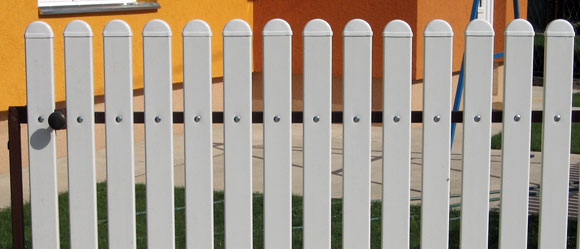 Both types of slat fence have several chambers and are made in white color. Middle chamber is made like a "honeycomb" so that fixation to metal or wooden cross beam rails – so called "Baskije" can be done with screws for wood and sheet metal – so called "holscrews", or with "turban" screws that pass through plastic slat fence and through "baskija".
Both types of slat fence can be any height by customer desire because we can cut them as desired. Prices of shorter than longer slat fence are calculated proportionally to their length.
Life time of slat fence from this, UV stabilized (persistent to influence of sunrays, i.e. to destructive influence) plastic is 50 years without any change.